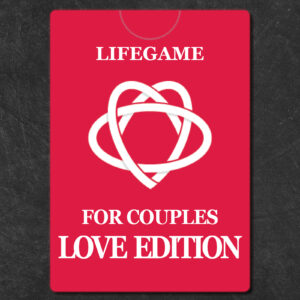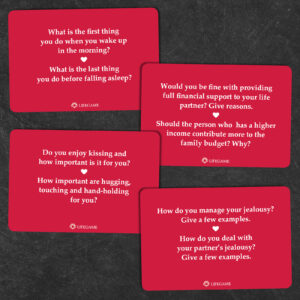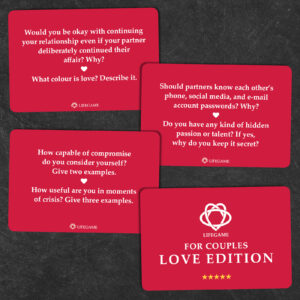 Conversation cards for couples LOVE EDITION collection is dedicated to supporting couples in growing mutual respect, unity, love, trust, passion, and connection.
These cards enable you to express and share thoughts, feelings, values, memories, dreams, and experiences. The right questions will help you get to know yourself and your partner better and are the basis for achieving and maintaining a happy relationship.
Topics: relationships, sex, family, children, former partners, money, work, world view, ambitions, habits, lifestyle. Cards contain intriguing questions for adults.
Why use cards instead of talking without them? Because cards add playfulness, help reduce the tensions that can arise when asking difficult questions, and help you talk freely and without masks. It's just a game!
"What would have to happen for you to give up your favorite but not so healthy food?"
"Is cheating actually cheating if nobody finds out about it? How exactly?"
"Do you love your body, and how much? Which body part is your favorite?"
"Do you feel good and sexy when you're naked with your partner? What could we do for you to feel even better?"
"Describe which of these you would be and what you would look like: a house, a river, a bird, or a car."
"Should financial assets and properties be shared between partners, or should everything be kept separate? Why?"
Conversation cards for couples LOVE EDITION collection is a valuable tool!
For example, in the partner selection phase, the cards help to understand whether and to what extent the partners' views and core values match, amplify the positive, and create the conditions for negotiating and preventing bottlenecks.
In a relationship (spouses, partners), our perfectly chosen questions help to express and share thoughts, feelings, values, memories, dreams, and experiences. Conversation cards enable you to get to know yourself and your partner better and are the basis for achieving and maintaining a happy life together.
The cards are also great for couples who have been together for a very long time, refreshing the relationship, adding passion and excitement, and reviving the feeling of falling in love with each other all over again.
Feel free to use the cards alone, learn to know yourself, your wishes, and your needs, answer questions and think about them. The better you know, love, and value yourself, the easier it will be to choose the right partner for life. When used individually, cards help you to understand what qualities you are ready to offer to your (future) loved one, what your limits are, and what is important for you to know and experience in a relationship.
For entertainment and daydreaming with your friends! Cards are perfect for having fun on girls' nights as well as for a deep analysis of relationships and human nature. Answer questions, share your experiences and daydream.
Men can play too! Let's bust the myth that men don't know how to listen to women or express their feelings well. The topics and questions on the cards are, for the most part, suitable for introspection and discussion between men and their friends. So, men, put yourself to the test: a hard drill makes an easy battle!
For use in therapy and counseling! The cards are a valuable and helpful tool for one-on-one work as well as for sessions with couples. The role of the counselor is to expand and elaborate on questions and answers as well as for active listening and reflecting.
The box contains:
2 instruction cards,
80 cards with two questions –160 questions in total.
Beautiful and comfortable (92×64 mm) premium cards are made from high-quality cardboard.
For ages 18+
Best for 1–2 players, for you and your partner
Playing time 30 minutes – 3 hours
Lovely tradition – one card daily! Take a card from the pack every day, answer the questions on
it and discuss the feelings and thoughts that come up.
Each card has two questions/topics – one question/topic for you to answer and the other to ask your partner. You choose which question/topic you answer and which you ask your partner.
As a warning – if there is a question on the card that you do not want to answer or you do not want to know the answer to, skip it. Keep in mind that if you ask a question whose answer you don't want to hear, you need to be prepared for the consequences.
The two questions on the map offer choice, decision-making freedom, and playfulness.
It also has more content in a smaller package which is important for maintaining minimalism in your space, as well as less impact on the environment.
The selected topics and questions presented on the LIFEGAME cards cover three timelines, through which the past is revived, the present priorities are recognized, and the future dreams are visualized.
All questions are unique, so the different LIFEGAME decks of cards are perfectly compatible.
The author, Maia Tihvan, is a master practitioner of neurolinguistic programming and certified coach.
LIFEGAME cards are created and made in Estonia.
We care about the environment. The materials used in the production of the cards are ISO9001, ISO14001, EMAS, and FCS certified.
Protected trademark: M201800030